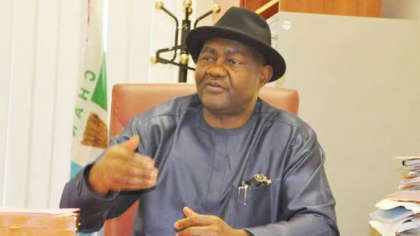 E don tay wey we dey hear say Senator Magnus Abe go soon comot from the ruling All Progressives Congress, APC, and e finally happen around two weeks ago.

Magnus Abe no just comot from APC, he announce say he don join the Social Democratic Party, SDP.
Before he comot, he dey always talk say him and the party leader for Rivers State, Chibuike Rotimi Amaechi no dey quarrel, only say dem disagree on principle.
E get one time too wey Magnus Abe talk say the only thing wey he ask for na make dem allow people wey get interest to contest party primaries to get level playing field. No be say dem go just choose one man, give am the ticket. He say na so democracy dey be. But Abe dey always talk say the way he dey look APC that time, e be like dem no want free and fair elections for the primaries.
Now wey he don comot from the party, how e take help am and how e take affect APC?
As Magnus Abe announce say he don comot from APC join SDP, na him people for him former party come dey laugh say for their mind he no even dey the party since. According to dem, e don tay wey he don dey divide the party so na, as oyimbo dey talk am, 'Good riddance to bad rubbish'
But true true, this thing wey Magnus Abe comot from APC, how e take help am as politician and how e take affect APC?
Olalekan Ige, wey be political analyst tell WazobiaFM.com say Magnus Abe go now get chance to contest governorship election for Rivers State.
Since the time wey Magnus Abe dey talk before APC do their primaries he dey always talk say him name go dey the ballot paper. Although, if you look the matter, he no mention the party wey he go dey.
"Politically, e go give am the chance to contest governorship election for Rivers State as e no for possible under APC wey don choose Tonye Cole," Olalekan Ige bin talk.
"Na also chance for am to prove say he hold ground among people wey dey vote for Rivers State, when you look the kind things wey happen before he comot from APC," Ige bin talk.
Any how you look am, Magnus Abe take big risk to comot APC, join SDP, but wetin dey this life if you no fit take risk?
*Beht how e take consign APC?*
So, as Magnus Abe don comot from APC, how e take consign dem?
Whether we gree or not, Magnus hold ground for Rivers South East Senatorial District and anywhere wey he go, people dey, wey go follow am go too.
Olalekan Ige also talk say as Rivers South East na place where APC dey use hold bodi e go mean say dem go lose small votes from there when Nigeria do elections.
"E go worry APC o. and this na because Rivers South East na where APC for use hold ground and na Magnus area," as Olalekan Ige talk.
If you check well, na the same Senatorial zone wey he represent for National Assembly so he popular, no be small, for that area.
And as Ige put am, "APC don lose person wey him face show and him shoe shine" because he get influence, appeal, passion and experience.
As Magnus Abe followers dey talk say APC don die and their man go win the elections next year, na so those wey remain for APC dey talk say nothing dey there, say Magnus no comot anything from their body.
But we wey remain go wait for elections next year and make dem announce result because na that time we go know the real thing wey go happen