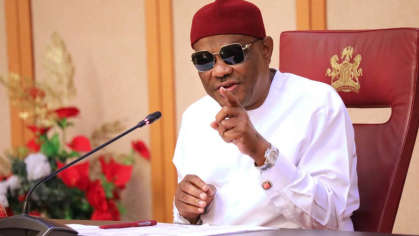 E get when Rivers State governor, Chief Nyesom Wike announce say he go soon begin do stomach infrastructure and people start to shout for Social Media.
Na March this year he talk am as he dey commision the Flyover for Oro-Abali (Kaduna Street), Port Harcourt.
The thing be say, and as Wike talk am, since he become governor, he dey build physical structures and he no dey share money, but as time bin don reach, he wan begin feed people for their belle until him administration complete.
When Governor Wike bin talk am that time, many people use style dey drag am, say which kind talk be that, but make we look am like this.
Wike talk that time say him administration bin invest for physical infrastructure, which, according to am, suppose bring economic growth and socio-economic development. He even talk say the small work wey he do don dey attract business people come the state.
He then talk say, as dem don nearly do everything wey dem promise Rivers people, time don reach make Rivers people begin see front as hunger dey everywhere.
If anybody get anything against Wike, e go be say, like most other governors for Nigeria, we no see factories wey go fit give Rivers people work wey dey permanent, but as Govoh, he call himself, Mr. Project so na wetin be him mission be that- to do project.
Roads, bridges, and flyovers na wetin full him head and he do am.
Whether he dash money before, or he no dash, na now he say he wan begin dash am. Three weeks ago when he announce say he wan appoint 14, 000 assistants, people say wetin be this?
Instead of am to shame, he increase the number to 28, 000, then 50, 000, now na 100, 000. In fact, na on Thursday morning, he officially commission dem to start work.

E be like na the stomach infrastructure be this.
Wetin dey wrong with am?
Those wey oppose am go talk say no be any aide wey he dey appoint. Dem say he just wan begin pay people wey go vote for him party for the next elections.
Some talk say he just dey use style empower political thugs wey go help PDP win next election, while many dey talk say which kind work he dey give people wey be only 7 months work. Dem say e be like the more you look, the less you see.
Dem say the man dey clueless, which be say he no get sense and he no sabi how to move the state forward.
But wetin dem fail to understand be say, na the same Wike wey talk say since he enter power he dey try to work and now na time for people to eat. Wike never work? Make we start from there… He never work? Some people fit complain about the work wey he do, but the man don work.
Some of the projects wey he commission last year na the Cassava Flour Processing Plant for Oyigbo, Mother and Child Hospital for Rumuomasi, Opobo/Nkoro Road, Odufor-Umuoye Road, Etche, Umueze-Umuogberi-Eberi Road, Omuma and the Rehabilitation Centre at Iriebe.
Other ones na the National Industrial Court Judges Quarters, Rivers State University (RSU) Senate Building, Isaiah Odolu Street, GRA, Herbert Macaulay/Nzimiro streets, Rumuigbo Street and William Jumbo-Ernest Ikoli-Eleme streets in Old GRA, Port Harcourt.
He still do the Community Secondary Schools for Obiagu, Oyigbo and Eteo, Eleme, Peter Odili Cancer and Cardiovascular Disease Treatment Centre, Trans-Kalabari Road, Bori-Kono Road, Aluu-Omagwa Road, new campuses of RSU at Emohua, Etche and Ahoada, as well as projects at Nigerian Law School in Yenagoa, Bayelsa State.
Government Secondary School, Kpor, Gokana, Ogbunabali/Eastern Bye-pass Road, Ogbakiri Internal Roads, Omerelu Internal roads and sand filling of Abonnema-Obonoma also follow, plus Woji-Aleto-Alesa Road, Mgbuitanwo Roads, Okochiri Internal Roads, Okrika Sandfilling.
All these na just last year alone he do dem, but people dey focus on the twelve flyovers, as if na the only thing he don do.
Remember say na road and Flyover he come to do.
Anybody wey no get work, wey go receive money for seven months better pass who no get work and who no go receive money.
Those wey go benefit from the money no go complain, na those wey dey township go dey talk say na bad thing.
And make we think am small- As Wike don do all these things, plus twelve Flyovers, the next governor, whether na Fubara or na Magnus Abe or na any other person, go begin put eye for another thing. Maybe the next governor go focus on wetin Oyimbo dey call Human Capacity Development, but the man wey dey now don do road and bridge.
E get many things wey we for like make Governor Wike do, but one person no go fit do everything.
Wike don try as him level carry am and e don reach time for people to eat. Area rough, ground wet. Make people fess see food eat, see front. The next governor fit do another thing wey dey him mind. Na stomach infrastructure time be this.