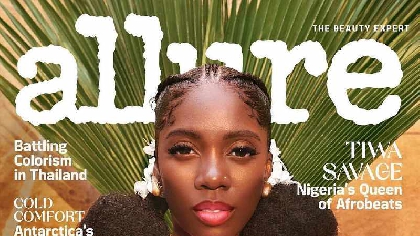 Talks about breaking unrealistic standards of beauty…
The latest edition of Allure magazine has Nigeria's Afrobeats queen on the cover!
Allure magazine is focused on beauty. As such, Tiwa Savage is seen as a beautiful woman according to global standards.
But she has not always been in love with her skin, though she learned how to come to terms with her imperfections. According to the information she gave to Allure, she tried to change the color of her skin but the endeavor failed because she was caught by her mother.
She also stated that she doesn't want to always appear perfect, she would much rather look relatable and that doesn't mean she wants to look messy. In her opinion, the pressure of social media makes young people want to appear perfect.
She also spoke on her makeup routine, adding that she stopped wearing foundation on the advice of Naomi Campbell.
The cover shoot was photographed in Nigeria by Lakin Ogunbanwo and styled by K. K. Obi. Tiwa wore voluminous gowns while being surrounded by flowers.