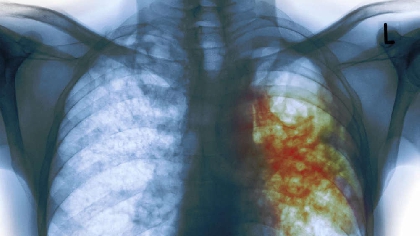 Nigeria na also di number one country for di whole of Africa wey dey suffer Tuberculosis pass.
Wetin Be Tuberculosis?
Tuberculosis (TB) na disease wey one bacteria wey dem dey call Mycobacterium tuberculosis dey cause. Di place wey dis bacteria dey attack pass na lungs, but TB bacteria fit still attack any part of di body like kidney, spine, and brain. Na true say TB bacteria na very deadly disease but no be everybody wey get am go sick.
Today, wey be 24th of March na im be World Tuberculosis (TB) Day. And today, World Health Organisation (WHO) don come out, come tok say di plans wey dem bin get to end tuberculosis by 2030 don dey under threat, cause e be like say, dis disease na still one of di world deadliest disease wey dey kill pipo anyhow.
WHO, for one tok tok report, tok say: "Every day, almost 4,400 pipo dey die because TB and almost 30,000 pipo dey fall sick with dis disease wey dem go fit prevent and cure. Since di World come together to fight TB since 2000, dem don save almost 74 million lives. But, COVID-19 pandemic, with other yawa wey dey happen for some parts of Europe, Africa and di Middle East and social classes and status wey no equal, don scatter di progress wey dem don make over di years to end TB, and pipo wey get di disease na im don suffer pass, especially di pipo wey no get moni. For deir latest World Tuberculosis Report, WHO tok say for the first time inside 10 years, dem don notice say TB rate and deaths don increase."
Dis Na Six Things Wey You Need Know About Tuberculosis;
1. TB dey spread from persin to persin from di air. When pipo wey get lung TB cough, sneeze or spit, dem dey put TB germs for air. And if persin breathe dis air wey carry dis germ, dem don carry am be dat.
2. Di pipo wey deir immune system no strong, like pipo wey get HIV, pipo wey no dey eat better food or pipo wey get diabetes, or pipo wey dey smoke tobacco or drink too much alcohol go fit catch di disease fast fast.
3. When persin carry dis TB disease, im go dey get cough, fever, night sweats, or even dey lose weight. Sometimes, di sign no dey quick show say persin don get dis disease and dis one no go make dem find help or care on time and dem fit dey pass am give other pipo without knowing.
4. Pipo wey get active TB fit infect 5 to 15 pipo wey dey near dem inside one year alone.
5. Tuberculosis dey mostly affect pipo wey dey 60 - 70 years old, but no body dey safe from dis disease. Because for 2021, na almost 10.6 million pipo na im catch tuberculosis for di whole world and inside dis 10.6 million pipo, 6 million na men, 3.4 million na women and 1.2 na million children. Dis one mean say TB dey for inside every country and any age go fit carry am.
6. Tuberculosis dey preventable and curable.
#chookmouth