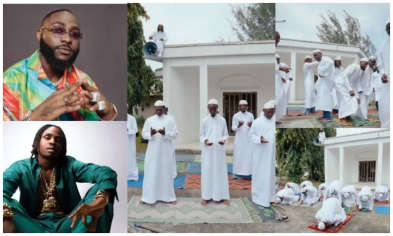 Na so pesin go just dey chillax, oo wahala go find you reach chilling spot. David Adedeji Adeleke wey many pipu know as Davido, been post one video for on top social media last week, to take promote the music of Logos Olori wey be one of the new artist wey eim sign.
E come be like say video no siddon well for the belle of some of eim fans, as dem start to tell am make eim delete the video becos e no respect dia religion.
The video show some muslim men dey dance for front of mosque, then Logos Olori come siddon on top the roof of the mosque, na so plenti muslim pipu for social media dey vex dey drag Davido say the thing no make sense as he post the video.
Forma media aide to former Presido Muhammadu Buhari, Bashir Ahmad tok say make the singer tell pipu wey the video no sweet for belle no vex, and come commot all the part wey make dem dey vex for inside the video before dem go release the music.
As an artist or entertainer,If your fans feel offended by a piece or portion of your work,especially as it concerns their culture,faith or religious beliefs,it will be most honorable for you to delete or edit that portion,apologise to them and move on.I'm here talking about…

— Senator Shehu Sani (@ShehuSani) July 23, 2023
Even Senator Shenu Sani follow chook mouth for the mata, eim tell Davido make in hear wey him fans dey tok and delete the video.
It is good to discover that Davido deleted that offensive and hurtful video. Hopefully, the entire scene will also be deleted from the actual footage before releasing it to the market, and we humbly urge that the same grave mistake should never happen again from him or anyone…

— Bashir Ahmad (@BashirAhmaad) July 23, 2023
Afta all the plenti tok the singer commot the video on top eim social media page, but eim no tok anytin about the video or tell eim fans wey the video vex sorry.
Oya see how pipu take para about the mata.
Davido hasn't apologized to Muslims, but instead he's trying to suppress the issue by donating $10k to a lady who returned a misplaced $70k. This is also coming from someone who's yet to fulfil the N20m promise he made to entrepreneurs since 2022. It costs nothing to say sorry.

— Daniel Regha (@DanielRegha) July 23, 2023
Davido should apologize let end this.
It takes nothing to say "I am sorry" pic.twitter.com/exasKW4hSV

— $ULTAN☠️ (@Sarki_sultan) July 25, 2023
You did the right thing taking down that video. All that's left is for you to apologize for disrespecting millions of Muslims

Cc @davido

— Sarki. (@Waspapping_) July 23, 2023